Contact Info:
---
Sign Up Here:
---
Sign up for future sales and to stay up to date on new items:
Our Policies:
---
Rating System
---
We do not claim to be professional booksellers. We have done our best to accurately grade our books. Therefore, we offer a money-back guarantee if you are not satisfied with your purchase. See return policy for specifics.
Our grades are: Fine (F), Near Fine (NF), Very Good (VG), Good (G).
Also, additional photos can be requested prior to purchase via email.
Returns
---
Items must be returned within 10 days. You must contact us via email to return an item. We will then email you a mailing label to use on your package. Please return the item in the original shipping box or envelope (if possible).
Shipping Policy
---
There is a limit of 15 items per order.
If you order an item that is oversized or much higher than average in weight, we may contact you for an additional postage charge.
We will use tracking numbers to ensure delivery. We will insure all packages that are over $600 in value without a charge.
Announcing The Estate Sale Of Big-Hearted Howard DeVore
Presented By: His Daughters
---









Specials, Sales & Stories
How Big-Hearted Howard Helped
Save Star Trek!!
---
This is the story of Bjo Trimble, Star Trek and how Howard helped save Star Trek after season two. Bjo and John Trimble had met Gene Roddenberry at Tricon in 1966 and luckily, began their involvement in the Star Trek journey.
Bjo Trimble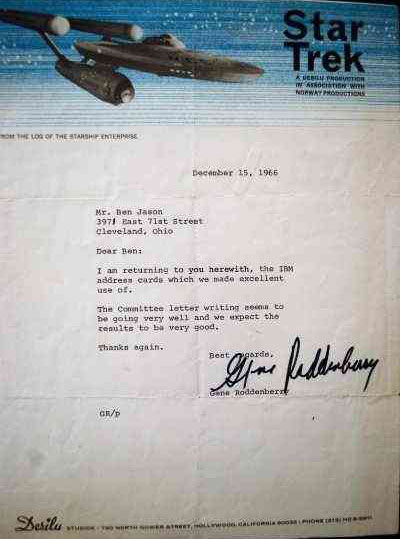 Bjo Trimble was the original Star Trek: TOS BNF and supporter of the show. She and her husband, John Trimble, assisted Gene Roddenberry in setting up Lincoln Enterprises and was put in charge of answering the deluge of fan mail. She edited newsletters, wrote articles in many zines, and started the letter-writing campaign called Star Trek Lives! to bring the show back after it had been threatened with cancellation. Trimble also created The Star Trek Concordance with Dorothy Jones Heydt.
Trimble, in describing her role in Star Trek history when using it to promote interest in her later publications from flyers for Space-Time Continuum: "Edited by the original 'SAVE STAR TREK' lady, Bjo Trimble" and "from Bjo Trimble, the fan who saved Star Trek."
And this woman known as "the Fan Who Saved Star Trek" or "the Save Star Trek lady" credited Howard DeVore for being the one who actually kick-started the mail-in campaign that kept Star Trek on the air after the second season!! The mail-in campaign was so successful that NBC actually announced on the air a request for an end to the letters! And they kept it on the air and the rest is history…BIG history!
Bjo wrote the following in honoring Howard as he received the Science Fiction World Convention Fan Guest of Honor award (posthumously) in 2006:
"How Howard helped save Star Trek"
When NBC decided to cancel Star Trek after its second season in 1967, the Trimbles decided to organize a write-in campaign to the network. "This was before computers and the Internet, so we had to rely on obtaining mailing lists. We asked but were turned down by several people who had mailing lists, but Big-Hearted Howard DeVore gave us his list to start the campaign. He also talked others into letting us use their mailing lists. He never got credit for this, though the we (John and Bjo Trimble) mentioned his name in interviews." So it may surprise many fans to know that without Howard, the Save Star Trek campaign might not have succeeded.
(See also the letter written by Roddenberry to thank a good friend of Dad's, Ben Jason, for the letter writing campaign which we offer for sale in the Oddities and Curiosities section of the website. Our letter is not for sale.)
Please watch this space regularly for updates on newly-listed items, special sales, fun stories and photos. We will continue to add new items such as pulps, digest magazines and notable fanzines.
At least monthly we will feature some very special items or stories, some of which you may have never seen or heard of! Hint: we own Hugo prototypes, a real Nebula that was awarded to Roger Zelazny, extremely rare and cool games, manuscripts, autographs and much more!
To be notified each time a new special appears, please add your email address to our mailing list. Hope you enjoy the features and take advantage of the sales!